What? What are you saying? October already??? I can't believe it :0 But well, I guess it means it's time for a monthly wrap up!
Books read: 7
Pages read: 2018
Books finished: 6
Books I gave up on: 1
Books I bought: 5
Books offered to me: 2
I'm quite proud, regarding my TBR for September, there is only one book I didn't read!
Percy Jackson and the sea of Monsters ( review to come)
Author: Rick Riordan
Read in: VO, audiobook
Note: 5/5
Summary:
The heroic son of Poseidon makes an action-packed comeback in the second must-read installment of Rick Riordan's amazing young readers series. Starring Percy Jackson, a « half-blood » whose mother is human and whose father is the God of the Sea, Riordan's series combines cliffhanger adventure and Greek mythology lessons that result in true page-turners that get better with each installment. 
In this episode, The Sea of Monsters, Percy sets out to retrieve the Golden Fleece before his summer camp is destroyed, surpassing the first book's drama and setting the stage for more thrills to come
Author: Elise Kova
Read in: VO, ebook
Note: 4/5
Summary:
A library apprentice, a sorcerer prince, and an unbreakable magic bond…
The Solaris Empire is one conquest away from uniting the continent, and the rare elemental magic sleeping in seventeen-year-old library apprentice Vhalla Yarl could shift the tides of war.
Vhalla has always been taught to fear the Tower of Sorcerers, a mysterious magic society, and has been happy in her quiet world of books. But after she unknowingly saves the life of one of the most powerful sorcerers of them all—the Crown Prince Aldrik—she finds herself enticed into his world. Now she must decide her future: Embrace her sorcery and leave the life she's known, or eradicate her magic and remain as she's always been. And with powerful forces lurking in the shadows, Vhalla's indecision could cost her more than she ever imagined.
Phobos 2 ( review to come)
Author: Victor Dixen
Read in: French
Note: 4.5/5
Summary: (in French only)
Reprise de la chaïne Genesis dans
3 secondes…
2 secondes…
1 seconde…
Ils croyaient maîtriser leur destin.
Ils sont les douze pionniers du programme Genesis.
Ils pensaient avoir tiré un trait sur leur vie d'avant pour devenir les héros de la plus fabuleuse des odyssées.
En réalité, ils sont les victimes de la plus cruelle des machinations.
Elle croyait maîtriser ses sentiments. 
Sur Mars, Léonor espérait trouver la gloire et, pourquoi pas, l'amour.
Elle pensait pouvoir ouvrir son coeur sans danger.
En réalité, elle a ouvert la boîte de Pandore du passé.
Même si les souvenirs tournent au supplice, il est trop tard pour oublier.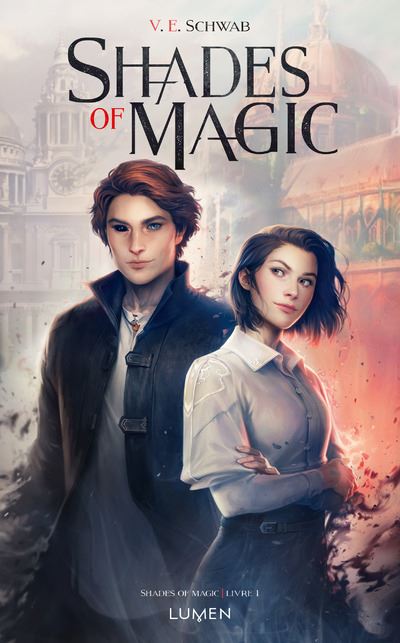 Author: VE Shwab
Read in: French
Note: 4.5/5
Summary:
Kell is one of the last Antari—magicians with a rare, coveted ability to travel between parallel Londons; Red, Grey, White, and, once upon a time, Black.
Kell was raised in Arnes—Red London—and officially serves the Maresh Empire as an ambassador, traveling between the frequent bloody regime changes in White London and the court of George III in the dullest of Londons, the one without any magic left to see.
Unofficially, Kell is a smuggler, servicing people willing to pay for even the smallest glimpses of a world they'll never see. It's a defiant hobby with dangerous consequences, which Kell is now seeing firsthand.
After an exchange goes awry, Kell escapes to Grey London and runs into Delilah Bard, a cut-purse with lofty aspirations. She first robs him, then saves him from a deadly enemy, and finally forces Kell to spirit her to another world for a proper adventure.
Now perilous magic is afoot, and treachery lurks at every turn. To save all of the worlds, they'll first need to stay alive.

Persuasion ( review à venir)
Author: Jane Austen
Read in: English
Note: 4/5
Summary:
Twenty-seven-year old Anne Elliot is Austen's most adult heroine. Eight years before the story proper begins, she is happily betrothed to a naval officer, Frederick Wentworth, but she precipitously breaks off the engagement when persuaded by her friend Lady Russell that such a match is unworthy. The breakup produces in Anne a deep and long-lasting regret. When later Wentworth returns from sea a rich and successful captain, he finds Anne's family on the brink of financial ruin and his own sister a tenant in Kellynch Hall, the Elliot estate. All the tension of the novel revolves around one question: Will Anne and Wentworth be reunited in their love?
Ok so, I know what you're going to say.. you rate all your books 4/5 and more, do you love everything you read?? The answer is no. Yes, I love most of the books I read ( I would not buy them if I didn't think I would at least appreciate them after all), but there is one I could not even finish this month. I could not dive into the story, and the main characters were driving me crazy. So I just said stop, enough. And this book is.. Snow like Ashes by Sarah Raasch. It's the second book of a fantasy trilogy, and I'm gonna put the summary of the first book bellow, cause who knows… maybe you'll like it!

Sixteen years ago the Kingdom of Winter was conquered and its citizens enslaved, leaving them without magic or a monarch. Now, the Winterians' only hope for freedom is the eight survivors who managed to escape, and who have been waiting for the opportunity to steal back Winter's magic and rebuild the kingdom ever since.
Orphaned as an infant during Winter's defeat, Meira has lived her whole life as a refugee, raised by the Winterians' general, Sir. Training to be a warrior—and desperately in love with her best friend, and future king, Mather — she would do anything to help her kingdom rise to power again.
So when scouts discover the location of the ancient locket that can restore Winter's magic, Meira decides to go after it herself. Finally, she's scaling towers, fighting enemy soldiers, just as she's always dreamed she would. But the mission doesn't go as planned, and Meira soon finds herself thrust into a world of evil magic and dangerous politics – and ultimately comes to realize that her destiny is not, never has been, her own. 
I finally finished Crooked Kingdom by Leigh Bardugo that I had to give back to the library before reading it all at the end of the summer. My heart was broken, but what a ride! This book, well this duology, was one of my favorite reads of the year! The characters make it all: they are brilliant and you just want to follow all of their adventures!
Here is the summary of the first book, Six of Crows:
Criminal prodigy Kaz Brekker has been offered wealth beyond his wildest dreams. But to claim it, he'll have to pull off a seemingly impossible heist:
Break into the notorious Ice Court
(a military stronghold that has never been breached)
Retrieve a hostage
(who could unleash magical havoc on the world)
Survive long enough to collect his reward
(and spend it)
Kaz needs a crew desperate enough to take on this suicide mission and dangerous enough to get the job done – and he knows exactly who: six of the deadliest outcasts the city has to offer. Together, they just might be unstoppable – if they don't kill each other first.
I think I was mostly reasonable this month, I only got two books, and on sale!
First one is a French one, the first book of a series from Pierre Bottero: Le Souffle de la Hyène. I'm super happy cause I already had bought books 2 and 3 before at the same used bookstore!
Summary: (french only)
Natan habite au Canada, il excelle dans tous les sports au point que c'en est étrange. Shaé vit près de Marseille. Elle possède, tapie au fond d'elle-même, une Chose qu'elle ne maîtrise pas. Lorsqu'ils se rencontrent à Marseille, ils comprennent que leurs existences sont liées…
Après avoir échappé à des individus sans visage et des créatures infernales, ils sont recueillis par la famille de Natan et pénètrent dans la Maison de l'Ailleurs. Mais l'Autre, triple et terrifiante incarnation du Mal, les y traque…

The second one, I only got it because of the title and the cover! I wanted a comforting read for this Fall/Winter and  The secret ingredient of wishes by Susan Bishop Crispell felt perfect!

Summary:
26-year-old Rachel Monroe has spent her whole life trying to keep a very unusual secret: she can make wishes come true. And sometimes the consequences are disastrous. So when Rachel accidentally grants an outlandish wish for the first time in years, she decides it's time to leave her hometown—and her past—behind for good. 
Rachel isn't on the road long before she runs out of gas in a town that's not on her map: Nowhere, North Carolina—also known as the town of "Lost and Found." In Nowhere, Rachel is taken in by a spit-fire old woman, Catch, who possesses a strange gift of her own: she can bind secrets by baking them into pies. Rachel also meets Catch's neighbor, Ashe, a Southern gentleman with a complicated past, who makes her want to believe in happily-ever-after for the first time in her life. 
As she settles into the small town, Rachel hopes her own secrets will stay hidden, but wishes start piling up everywhere Rachel goes. When the consequences threaten to ruin everything she's begun to build in Nowhere, Rachel must come to terms with who she is and what she can do, or risk losing the people she's starting to love—and her chance at happiness—all over again.
I also was super lucky and won a BookDepository coupon that I used to get two extra books:
The Song of Achilles by Madeline Miller. Because one of my friends ( API I love you) is OBSESSED with it!

Summary:
Greece in the age of heroes. Patroclus, an awkward young prince, has been exiled to the court of King Peleus and his perfect son Achilles. Despite their differences, Achilles befriends the shamed prince, and as they grow into young men skilled in the arts of war and medicine, their bond blossoms into something deeper – despite the displeasure of Achilles' mother Thetis, a cruel sea goddess. 
But when word comes that Helen of Sparta has been kidnapped, Achilles must go to war in distant Troy and fulfill his destiny. Torn between love and fear for his friend, Patroclus goes with him, little knowing that the years that follow will test everything they hold dear.
The other one is Heartless by Marissa Meyer. I did not enjoy Cinder that much, but this book, following the Queen of Hearts, makes me really curious!

Summary:
Catherine may be one of the most desired girls in Wonderland and a favorite of the unmarried King, but her interests lie elsewhere. A talented baker, she wants to open a shop and create delectable pastries. But for her mother, such a goal is unthinkable for a woman who could be a queen.
At a royal ball where Cath is expected to receive the King's marriage proposal, she meets handsome and mysterious Jest. For the first time, she feels the pull of true attraction. At the risk of offending the King and infuriating her parents, she and Jest enter into a secret courtship.
Cath is determined to choose her own destiny. But in a land thriving with magic, madness, and monsters, fate has other plans.
There we go! This closes my wrap up, hope you didn't find this too long! As it's my first article of the type, I'd be curious to know what you think.
And you, what did you read this month?
See you for a cup!
Elise