Hello bookdragons! Confession time: For almost 20 years of my life (even as a baby, yes) I thought I didn't like sci-fi. For me, sci-fi meant Stephen King Running man or robots or weird aliens in very dubious books. But then, IT ALL CHANGED. How? Why? I'm gonna tell you!
     One day, I opened Illuminae (well, actually, pushed the play button on the audiobook) and my life was different! I discovered that sci-fi had changed, and modernized. That it could be the exciting adventure of men in space, but that if the decor changed, the way humans were, didn't. Illuminae was a fantastic and unique story, because of how the book was written, but also because of the characters and the plot. In space or not, they were great. And I realized that being in another galaxy, in a spaceship, it just added great aspects to it? ( like space description or gravity stuff). Space conquest also comes (at least most of the time) with humans possessing a more advanced technology, such as space jump or crazy artificial intelligence. And this was so good to discover (I'm a sucker for futuristic gadgets)! Basically, I learned with Illuminae that I may love sci-fi actually, more than I thought! And it made me want to give the genre a chance, to read more books happening in a galaxy far far away. And so far, I have loved all the ones I have picked! So hey, why not share them with you!
My personal sci-fi favorites: 
Illuminae – Amie Kaufman and Jay Kristoff

Of course I recommend this series, it is what introduced me to Sci-Fi!! I loved all three books, they were amazing! You can read my review of Illuminae and Gemina on the blog!
The color of magic(and all the following Discworld novels) – Terry Pratchett
The color of magic is brilliant and crazy and a must read! Mix of sci-fi and fantasy, with incredible characters and a unique writing, I'm a big fan (even if there are over 30 books)
Ascension – Victor Dixen

Ascension is the English translation of the French book Phobos, coming out soon. A YA sci-fi/dystopian/romance book that you must try!
Ignite the stars – Maura Milan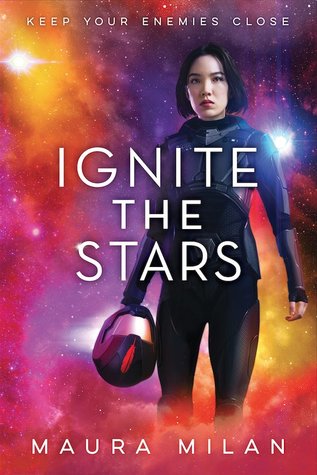 I was lucky enough to receive an eARC of this book a while ago and it was SO GOOD. Space is a big part of the story here, but with very actual concerns like immigration and racism represented in the book. Another one to add to your TBR! ( My review is here)
Red Rising – Pierce Brown

If you look for a freaking good adult sci-fi, try Red Rising. The action happens on Mars, in a society where strength and power are everything. It is so well written, I was captivated!
Atlas Fallen – Jessica Pierce

This book I just finished happens in a station gravitating around the Earth, opposite to the Moon. So we are close from home here! Despite that, you knew with no doubt you were in space! This is really good sci-fi, with robot fights, spaceships, and enhanced human beings.
Here, with that list, you are ready and set to take off in the sci-fi world! Do you have some good recs for me??
See you for a cup!
Elise