Hey guys!
Something a bit different today, but here is the thing: London is one of my favorite cities in the world! So when Mapiful offered to send me a map, after a lot of thinking, I chose the beautiful London. But more than my love for the city itself, it is also the perfect set for literary adventures! And so, I decided to make a top 10 of books happening in London:
1.Lady Helen – Alison Goodman: des démons, une Lady et un amour impossible!
London, April 1812. On the eve of eighteen-year-old Lady Helen Wrexhall's presentation to the queen, one of her family's housemaids disappears-and Helen is drawn into the shadows of Regency London. There, she meets Lord Carlston, one of the few who can stop the perpetrators: a cabal of demons infiltrating every level of society. Dare she ask for his help, when his reputation is almost as black as his lingering eyes? And will her intelligence and headstrong curiosity wind up leading them into a death trap?
2. Rivers of London – Ben Aaronovitch: The rivers are alive, and they are magical! Oh, and there is also a special Londonian police force watching over the Supernatural London.
Probationary Constable Peter Grant dreams of being a detective in London's Metropolitan Police. Too bad his superior plans to assign him to the Case Progression Unit, where the biggest threat he'll face is a paper cut. But Peter's prospects change in the aftermath of a puzzling murder, when he gains exclusive information from an eyewitness who happens to be a ghost. Peter's ability to speak with the lingering dead brings him to the attention of Detective Chief Inspector Thomas Nightingale, who investigates crimes involving magic and other manifestations of the uncanny. Now, as a wave of brutal and bizarre murders engulfs the city, Peter is plunged into a world where gods and goddesses mingle with mortals and a long-dead evil ismaking a comeback on a rising tide of magic.
3. Neverwhere – Neil Gaiman: always this crazy imagination portraying London above and London below!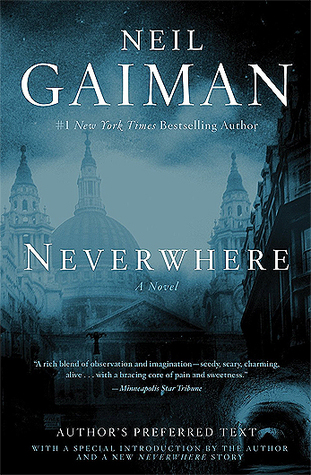 Neverwhere is the story of Richard Mayhew, a young London businessman with a good heart and an ordinary life, which is changed forever when he is plunged through the cracks of reality into a world of shadows and darkness—the Neverwhere. If he is ever to return to the London Above, Richard must join the battle to save this strange underworld kingdom from the malevolence that means to destroy it.
4. Soulless – Gail Carriger: Parasol, steampunk, vampires, and werewolves. But you must have good manners!
Alexia Tarabotti is laboring under a great many social tribulations.
First, she has no soul. Second, she's a spinster whose father is both Italian and dead. Third, she was rudely attacked by a vampire, breaking all standards of social etiquette.
Where to go from there? From bad to worse apparently, for Alexia accidentally kills the vampire–and then the appalling Lord Maccon (loud, messy, gorgeous, and werewolf) is sent by Queen Victoria to investigate.
With unexpected vampires appearing and expected vampires disappearing, everyone seems to believe Alexia responsible. Can she figure out what is actually happening to London's high society? Will her soulless ability to negate supernatural powers prove useful or just plain embarrassing? Finally, who is the real enemy, and do they have treacle tart?
5. A darker shade of magic – VE Schwab: a magical London, yes, and even four!
Kell is one of the last Antari—magicians with a rare, coveted ability to travel between parallel Londons; Red, Grey, White, and, once upon a time, Black.
Kell was raised in Arnes—Red London—and officially serves the Maresh Empire as an ambassador, traveling between the frequent bloody regime changes in White London and the court of George III in the dullest of Londons, the one without any magic left to see.
Unofficially, Kell is a smuggler, servicing people willing to pay for even the smallest glimpses of a world they'll never see. It's a defiant hobby with dangerous consequences, which Kell is now seeing firsthand.
After an exchange goes awry, Kell escapes to Grey London and runs into Delilah Bard, a cut-purse with lofty aspirations. She first robs him, then saves him from a deadly enemy, and finally forces Kell to spirit her to another world for a proper adventure.
Now perilous magic is afoot, and treachery lurks at every turn. To save all of the worlds, they'll first need to stay alive.
6. The book of Dust – Philip Pullman: An alternate London but with all the historical buildings still standing!
Malcolm Polstead is the kind of boy who notices everything but is not much noticed himself. And so perhaps it was inevitable that he would become a spy…
Malcolm's father runs an inn called the Trout, on the banks of the river Thames, and all of Oxford passes through its doors. Malcolm and his dæmon, Asta, routinely overhear news and gossip, and the occasional scandal, but during a winter of unceasing rain, Malcolm catches wind of something new: intrigue.
He finds a secret message inquiring about a dangerous substance called Dust–and the spy it was intended for finds him.
When she asks Malcolm to keep his eyes open, Malcolm sees suspicious characters everywhere; Lord Asriel, clearly on the run; enforcement agents from the Magisterium; an Egyptian named Coram with warnings just for Malcolm; and a beautiful woman with an evil monkey for a dæmon. All are asking about the same thing: a girl–just a baby–named Lyra.
Lyra is the kind of person who draws people in like magnets. And Malcolm will brave any danger, and make shocking sacrifices, to bring her safely through the storm.
7. A study in Scarlet – Sir Arthur Conan Doyle: a classic!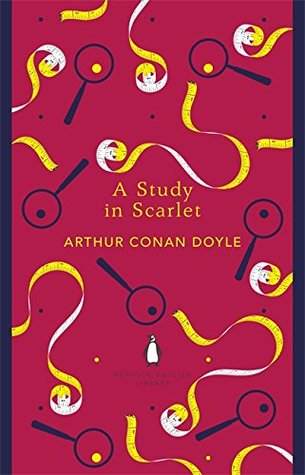 When Dr John Watson takes rooms in Baker Street with amateur detective Sherlock Holmes, he has no idea that he is about to enter a shadowy world of criminality and violence. Accompanying Holmes to an ill-omened house in south London, Watson is startled to find a dead man whose face is contorted in a rictus of horror. There is no mark of violence on the body yet a single word is written on the wall in blood. Dr Watson is as baffled as the police, but Holmes's brilliant analytical skills soon uncover a trail of murder, revenge and lost love . . .
8. An assassin's guide to love and treason – Virginia Boecker: Shakespeare's play, lies, and conspiracies!
When Lady Katherine's father is killed for being an illegally practicing Catholic, she discovers treason wasn't the only secret he's been hiding: he was also involved in a murder plot against the reigning Queen Elizabeth I. With nothing left to lose, Katherine disguises herself as a boy and travels to London to fulfill her father's mission, and to take it one step further–kill the queen herself.
Katherine's opportunity comes in the form of William Shakespeare's newest play, which is to be performed in front of Her Majesty. But what she doesn't know is that the play is not just a play–it's a plot to root out insurrectionists and destroy the rebellion once and for all.
The mastermind behind this ruse is Toby Ellis, a young spy for the queen with secrets of his own. When Toby and Katherine are cast opposite each other as the play's leads, they find themselves inexplicably drawn to one another. But the closer they grow, the more precarious their positions become. And soon they learn that star-crossed love, mistaken identity, and betrayal are far more dangerous off the stage than on.
9. Stalking Jack the Ripper – Kerri Maniscalco: A new take on a classic historical murderer.
Presented by James Patterson's new children's imprint, this deliciously creepy horror novel has a storyline inspired by the Ripper murders and an unexpected, blood-chilling conclusion…
Seventeen-year-old Audrey Rose Wadsworth was born a lord's daughter, with a life of wealth and privilege, stretched out before her. But between the social teas and silk dress fittings, she leads a forbidden secret life.
Against her stern father's wishes and society's expectations, Audrey often slips away to her uncle's laboratory to study the gruesome practice of forensic medicine. When her work on a string of savagely killed corpses drags Audrey into the investigation of a serial murderer, her search for answers brings her close to her own sheltered world.
The story's shocking twists and turns, augmented with real, sinister period photos, will make this dazzling, #1 New York Times bestselling debut from author Kerri Maniscalco impossible to forget.
10. The Cuckoo's Calling – Robert Galbraith: a good detective story in the heart of London. Plus, it's actually from JK Rowling.
A brilliant mystery in a classic vein: Detective Cormoran Strike investigates a supermodel's suicide.
After losing his leg to a land mine in Afghanistan, Cormoran Strike is barely scraping by as a private investigator. Strike is down to one client, and creditors are calling. He has also just broken up with his longtime girlfriend and is living in his office.
Then John Bristow walks through his door with an amazing story: His sister, the legendary supermodel Lula Landry, known to her friends as the Cuckoo, famously fell to her death a few months earlier. The police ruled it a suicide, but John refuses to believe that. The case plunges Strike into the world of multimillionaire beauties, rock-star boyfriends, and desperate designers, and it introduces him to every variety of pleasure, enticement, seduction, and delusion known to man.
You may think you know detectives, but you've never met one quite like Strike. You may think you know about the wealthy and famous, but you've never seen them under an investigation like this.
Do you have cities you love to read about? Or maybe other books to recommend happening in London?
See you for a cup!
Elise