Steel tide by Natalie C Parker
Series: Seafire #2
Format: ARC
Pages: 448
Published by Penguin Random House
Top 3 Genres: Young Adult, Adventure, Fantasy
My rating: Set it on fire/ If you have nothing else to read/ you need to read it/Run and buy it.
Source: ARC provided by Penguin Teen Canada in exchange for an honest review.
Add to: Goodreads
To buy the book: CA•US• FR• Bookdep
Hey guys!
Ready to conquer the Seas and fight for the oppressed? Then come on and join Caledonia's Styx fight in Steel Tide, the second book of the Seafire series! Yep, you got it, that's the book I'm gonna review today 😉
Caledonia may have lost her crew, but she's not done fighting yet. After nearly dying at the hand of a powerful foe, Caledonia is pulled from the sea and nursed back to health by a crew of former Bullets that call themselves Blades. The Blades escaped Aric Athair's clutches and now live a nomadic existence, ready to disappear at a moment's notice should trouble come their way.
But Caledonia wants to do more than just hide. She wants to find the Mors Navis and her beloved sisters. She wants to continue fighting Aric's fleet and to take back the Bullet seas. She'll need to do everything in her power to convince the Blades that fighting is their only option, that there has to be a life better than the one under Aric Athair's reign, and that finding the women of the Mors Navis is the first step to revolution.
Back to the Bullet Sea
       If you remember well, at the end of Seafire, we left Caledonia in quite a bad situation, deadly injured and more or less drowning… but fear not, she got rescued (or I guess there would not be a second book right?). Her saviors? A group of Bullets who defected Aric Athair 's army and call themselves the Blades. They are quite a fun bunch even if it takes Caledonia a little bit to warm up to them. Then, (a bit too) quickly, they give her their trust and let her decide of their fate, first conquering a Bullet ship to sail away from the Net… then changing her mind and decided to save her sisters who are in a very perilous situation first. And all of this is only the beginning of the journey for Caledonia!
The Sea is not a quiet place, it is made of violence and difficult choices in this novel, of hurtful discoveries and loss, but also, a hope of a future free of Aric Athair! It is because of him, of what he took from her, that Caledonia fights so hard. And in this second book, despite all the difficulties, she starts to realize that she wants to fight for more than herself and her sisters, she wants to fight for all, even if it means war over the seas!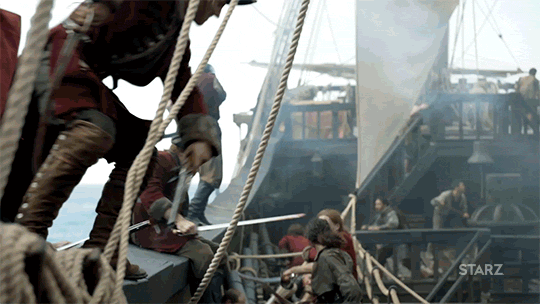 I was enraptured once again by the (futuristic?) world created by Natalie C Parker. All this action on the Sea, but mostly, all the hints at this world being our future, with some of the techs (like nanomedicine) or talks about how the ancient world was destroyed. It makes me so curious to know more and brings really an extra depth to the setting. We can't help to wonder how did we get there? And be interested in these humans who survived and learned to adapt through a very different style of living.
There is also A LOT of action in this book, and past the first 150 pages, I read it in one shot very easily. I won't say too much but it involves a lot of ship battle, blood, Caledonia and her sisters, Oran, the Blades, and the Sly King! You can't get bored 😉
And back to the same downsides
     If you remember in my review of Seafire, I told you all that I liked about this book but also what prevented me from giving it a better rating. Well, it's still here. In the first 100 pages, Caledonia was still such a pain. I can't connect with her character being so impulsive and never learning from her mistakes. I just wanted to slap her at times. Thankfully, it FINALLY got better at some point in the book and I truly enjoyed a lot the second half. Still, it was a long time before we got there and I almost DNF the book at some point. I'm glad I didn't like I said, the second half was really great! But please, Caledonia, show us you've grown a bit in book 3!!! 
In a few words
     Despite the main character who still infuriated me in the first part of the book, I once again dove into the Bullet Sea and all its dangers! If you like badass female characters, pirates, and desperate fights for freedom, get on board 😉
See you for a cup,
Elise